Kamyra now has the famous Unique Condom Card which is available in 4 different versions – this is the "Smart" variant where the condom can be put on the penis even if it is not yet erect – and up to two hours before putting it to use! This is the world's first true and only PRE ERECTION CONDOM that makes lovemaking so much easier (and more fun) because you don't have to interrupt your intimacy with the mundane task of putting it on – because you already wear it!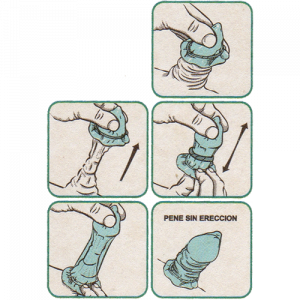 Kamyra Unique condoms are made of AT-10, a very soft, non-latex material which is excellent in transferring body heat while having no odour at all.
Technical Data
Material: artificial resin AT-10
Nominal width: 60 mm
Length: 180 mm
Surface: smooth, transparent
Not lubricated
Reservoir: teat-ended
Manufactured in: Columbia
Each Condom Card contains: 3 pre-erection condoms
Languages: German
Available a single card or display box with 24 cards
Product Images
These images are free to use for all resellers of Kamyra condoms. Their use is restricted, however, to the promotion, presentation and sale of Kamyra condoms only. They must not be used for other purposes without written approval by us.
Click to enlarge images, or right-click and select "Save target as".
---